Debt Review - Everything you need to know
If you're in debt and need help, Debt Review might be the answer. Simply put: debt review is a process of allowing a debt counsellor to take control of your finances, who will then compile and consolidate your debt and create a comprehensive plan, aimed to ensure that you are able to repay all of your debt in an affordable manner whilst being protected.
What is debt review?
Debt review is a legal process and is also useful in that your overall debt repayments can be reduced and negotiated by your debt counsellor on your behalf. The advantage of debt review is the ability to protect you against asset repossession, legal action and creditor harassment.
Read The Truth about Debt Review.
What are the advantages of debt review?
There are many advantages to going under debt review, and below we will just pinpoint a few you should know about off the bat!
1. One fixed monthly payment to be made
The more account payments you have due every month, the easier it is for you to accidentally miss a payment and make your situation worse. Missing a single payment can also affect your credit score and result in late payment fees, which are often expensive.
Another problem that arises when your household income isn't high enough and you have overspent and over-committed to items that you cannot afford is that you are left with the dilemma of which creditor to pay at the end of the month. You will likely have great difficulty tracking all of your payments. And in bad scenarios, you may even take out more debt to make it through the month.
The advantage of going under debt review means that you no longer have to stress about your monthly debt repayments. A debt counsellor will simplify the process for you. And you will only have one fixed lower repayment per month to pay towards your debt.
2. Reduced monthly payments towards debt while under debt review
The main aim of debt counselling is to help you pay off your debt while still allowing you to have enough money to cover your other expenses throughout the month.
Therefore, your debt counsellor will negotiate and likely reduce your monthly debt repayment by extending your repayment period. By paying a decreased amount in repayments every month, you can afford to pay off your debt and cover all of your other living expenses whilst on the journey.
3. Legal protection, creditors cannot take action against you
The significant advantage of debt counselling, or being in the debt review process is that once you're under debt review you will not have to worry about any legal letters or phone calls from creditors.
The National Credit Act legally protects you and your assets from creditors. This means that creditors may not hassle you during this time, and your debt counsellor will take over all communication with creditors on your behalf!
4. Take a break from credit while under debt review
Once you're officially under debt review, your credit profile is flagged at the credit bureaus in South Africa, and they are aware of the actions you are taking to repay your debt. This means you cannot take out any further debt until the debt review process is complete. This is a great way to stay clear of incurring more debt and to start focusing on a debt-free future, even though can be worrying to some who feel they need a loan to survive the process.
The beauty of the debt counselling/debt review system is that once you have settled all your debts, you will receive an official clearance certificate, and the credit bureau will be notified to remove the flagged listing.
5. You will become debt-free if you fully complete the debt review process
There is a guarantee that if you commit to the debt review process and follow the stipulated plan you will settle your debt through the debt review process. If you are committed to working towards a debt-free future and you keep up with your monthly payments towards debt, you will gain financial freedom through debt counselling and it will be so rewarding and worthwhile!
Are you motivated to change your financial health this year? Join Meerkat's Debt Management program today to start changing your finances for the better.
How does debt review work?
This process is far more simple than people sometimes expect and can be summarised in a few steps.

Step 1: The debt counsellor will have a look at your financial situation as a whole and gauge your 'debt profile'. This will involve accounting for all of your income as well as the exact amount of debt which is owed to your different creditors. Once this step is complete and your debt counsellor concludes that you are over-indebted your debt review journey will begin.

Step 2: Formalising the process by means of paperwork. This is to ensure that you and your debt counsellor are on the same page about how to proceed and that the formal process can officially begin.

Step 3: Your creditors are contacted to confirm precisely how much money is owed to them.

Step 4: You become listed on the National Credit Bureau's NCR Debt Help database.

Step 5: The NCR will then inform your creditors of your application to the debt review process.

Step 6: This exchange opens negotiation between your debt counsellor and your creditors. Negotiations regarding the amount payable to them as well as different timeframes. From this exchange, your debt counsellor will be able to plan a payment schedule for you, outlining exactly what is required from you financially going forward.

Step 7: Creditors confer for agreement and a consent order is issued. This is to ensure that there is a shared understanding between the debt counsellor as well as the creditors regarding the negotiations that have occurred.

Step 8: You start making your one monthly payment to your debt counsellor and finally get that peace of mind you've been craving!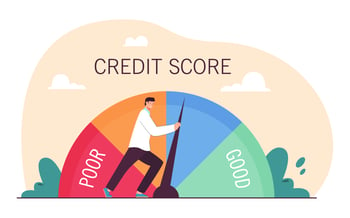 Debt counsellor
When you are placed under debt review, you have appointed a debt counsellor who has worked through your income and expenses and has determined that you are over-indebted and debt stressed.

This debt counsellor will then inform your creditors and the credit bureaus and draw up an interim repayment plan.

This plan often reduces your monthly debt repayments by up to 50% and reduces the interest rates on unsecured lending.
Your debt repayment plan, created by the debt counsellor, will then be submitted to a registered payment distribution agency (PDA) that makes all the payments to your creditors on behalf of the debt counselling company.

Once your creditors accept the revised repayment plan, legal action cannot be taken against you with regard to your debts under review. Once all your debts have been repaid, you will be issued a clearance certificate by your debt counsellor and they will notify the credit bureaus that you are no longer under debt review/debt counselling.

It's important to note that debt counselling is not like blacklisting and any record of being under review will be removed from your credit record once the process has concluded successfully.
How much will debt review cost you?
This question is very popular because when people are over indebted their ability to take on another payment is non-existent. The good news is, that the debt review fees are prescribed by the National Credit Regulator, and therefore you will not be charged more than stipulated as all debt counsellors are required to adhere to the NCR Fee Guideline.

The fee is incorporated into the restructuring plan created by your debt counsellor and issued to your creditors. So essentially it is all wrapped into the process- which contributes to the simplicity of it all.
Debt review removal
To have your debt review notice removed, a court application must be made for the court to find that you are not over-indebted. Once this is reviewed by the court and a decision is made, you will be notified.
Can I cancel debt review or debt counselling?
Yes. If you are financially stable, no longer over-indebted and it's possible for you to afford the original monthly payments that were made before the debt review process.
What happens if I can't pay my debt review?
Under debt review and need a loan urgently
If you're under debt review and need a loan urgently, it's unlikely to be granted by the main stream banks as the practice is prohibited in terms of the National Credit Act.

It is not possible to get a personal loan while still under debt review. While under debt review, you cannot access further credit in the form of a loan or credit card. This is not to try and make life difficult but rather to help you regain financial control. If you were able to continue accumulating credit during the debt counselling process, your debt would spiral out of control and you would be unable to make the committed repayments.

There are, however, several unregistered loan sharks and reckless lending companies in the market. If you are offered a loan while under debt review you should be very wary as this is not allowed. These unscrupulous characters are likely looking to make money out of you by taking advantage of your vulnerability and will have incredibly high-interest rates.

The National Credit Act introduced the debt review process so that South Africans in debt would have a chance to rehabilitate their finances; the alternative would be to succumb to personal administration and deal with the long term effects such as repossession of their assets.
Should you take a personal loan when under debt review?

The main aim of the debt review process is to get the person debt-free and focus on their current debt instead of building up more.

You've seen the advantages of debt review and hopefully have a better understanding of the whole process, now we will touch on when and why you should consider debt review.
Conclusion
Firstly, while under debt review, you'll only pay one fixed monthly payment instead of multiple payments to different vendors. Making your life much simpler! Less admin!

Secondly, your debt counsellor will negotiate reduced monthly payments toward debt repayment, which can help you create room to afford your expenses.
Third, the NCA will legally protect you from creditors repossessing your assets.

Lastly, credit bureaus no longer have the power to blacklist you when you are under debt review. These are, but a few reasons why going under debt review will make your life easier and lead you towards financial freedom!