Financial Wellbeing in the year of Covid.
The festive season is almost here, and it's been one challenging year. No one could have predicted what 2020 had in store for us. The Covid-19 Pandemic changed the world overnight.
Not only were we impacted emotionally but our financial wellbeing was deeply affected. We saw retrenchments and unemployment. People were on reduced pay and there was a general uncertainty of what was to come.
It is no surprise that many of us found ourselves deep in debt. Not knowing when the next full pay check was coming, many turned to credit to get through each month. As each month passed it became harder to make ends meet. Do you now find yourself falling behind on your debt repayments? You are not alone.
We have seen a significant increase in people reaching out to our debt counsellors for help and support. We have been privileged to go on a journey with our clients to help them regain financial control.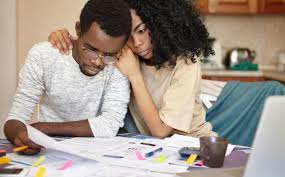 Our existing clients were also impacted and those with our credit life insurance were relieved to know we would pay their debts for them until they returned to work.
We've helped hundreds of people reduce their debt repayments these past months to give them the breathing space they need. We've also negotiated a reduction in the interest rates paid. On average we have saved our clients 7% on their interest, meaning they pay less for their loan overall.
We have kickstarted an emergency fund as part of the plan to prepare our clients for life's unexpected expenses. If anything 2020 has taught us, it is to be prepared. We never know what is around the corner.
Being financially stressed impacts your health and wellbeing. It can negatively impact your performance at work and put strain on your family. If you can relate to any of the following, it's time to ask for help.
Are you:
Losing sleep due to the stress of your finances
Avoiding calls in case it is a creditor
Servicing debt with all your income
Living day to day on your credit card
Borrowing money to pay bills
Using one credit card to pay off another
Applying for multiple loans in the hope of being accepted but are only being declined.
You don't need to go into the Festive Season feeling like this. We are here to help relieve the financial burden and help you do more with your money. If you would like a free no-obligation financial assessment contact us today. The more you delay, the worse it can be. Let's end this year together and get you debt-free.